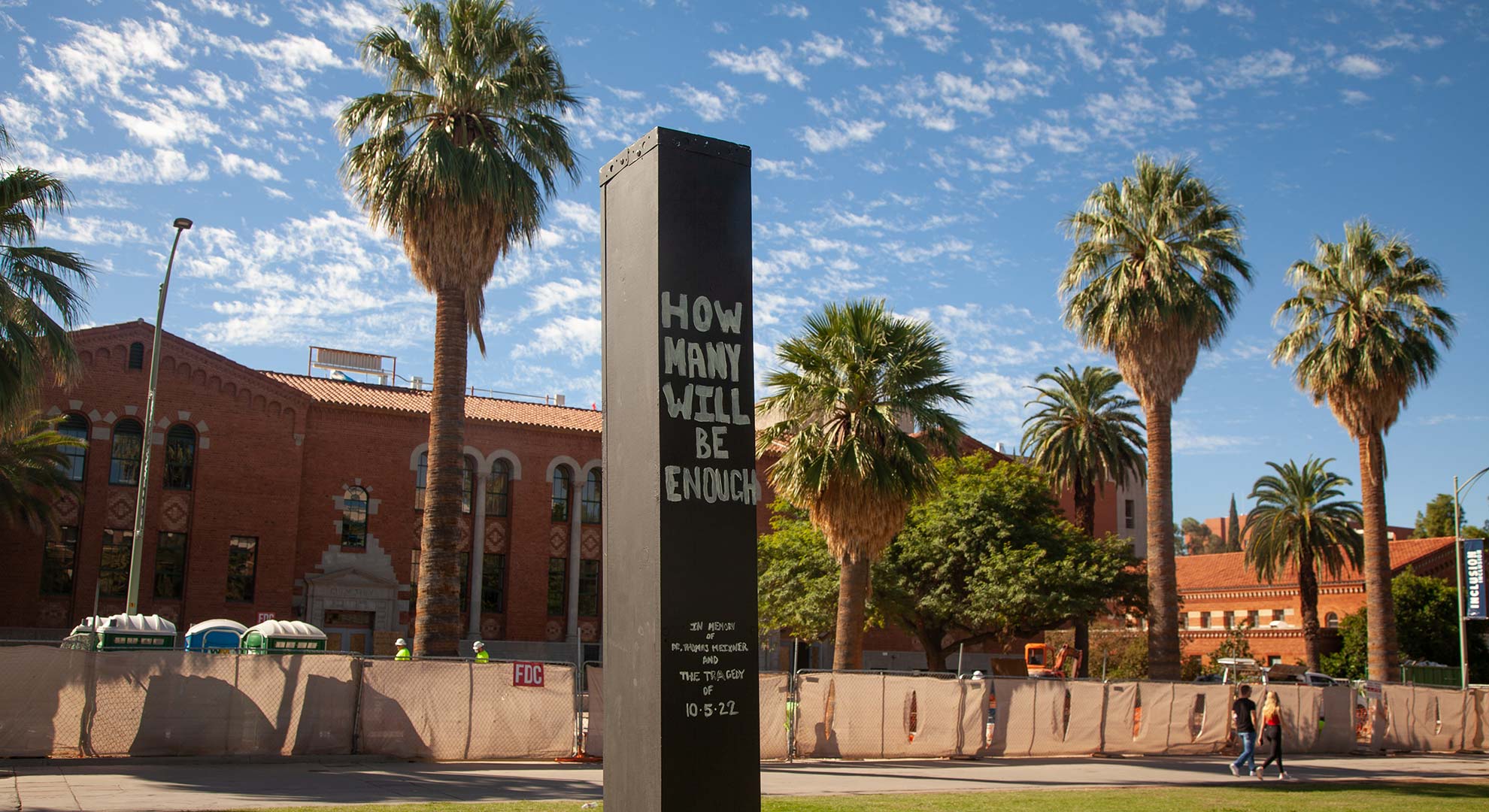 A black pilar that says "How many will be enough" stands in the middle of the University of Arizona Mall one week after the killing of Professor Thomas Meixner on campus. A few days prior university officials held a candlelight vigil where the pilar stands.
Paola Rodriguez/Arizona Public Media
In an email sent to University of Arizona staff, faculty and students, President Robert Robbins detailed the procedures that were taken in response to former student Murad Dervish's harassment towards staff members.
The email comes one week after the university announced that they contracted an independent expert to review campus security, including the university's response to events leading up to the shooting. The review will last 75 days and conclude while students are on winter break.
In the timeline, the university details how it first prohibited Dervish from university property in January of this year. The following month, the dean of students recommended expulsion for Dervish's behavior toward personnel.
He continues to list other actions that were taken, including:
moving staff members of the Department of Hydrology and Atmospheric Sciences;
changing passcodes to rooms that Dervish previously had access to;
contacting Dervish's former educational institution regarding his history.
University officials also advised faculty who were affected by Dervish on different ways they may seek personal legal action if they wanted.
It was not until this past June that Dervish was formally expelled, causing him to be permanently banned.
The email also detailed steps the University of Arizona Police Department took. UAPD previously visited Dervish's home twice and in one instance, police spoke with Dervish in April. UAPD has not yet responded to AZPM's request for explanation of the house visits.
Twice UAPD tried to file charges against Dervish based on his communications to staff members. The Pima County Attorney's Office declined both requests.

In a statement, Pima County Attorney Laura Conover said that "in neither instance did the facts of the complaint meet the evidentiary requirements for charging [Dervish] with the crime of Threats and Intimidation at that time."
Read the email from UA President Robert Robbins.

View at Google Docs
|

Download File
Read the statement from the Pima County attorney's office.

View at Google Docs
|

Download File