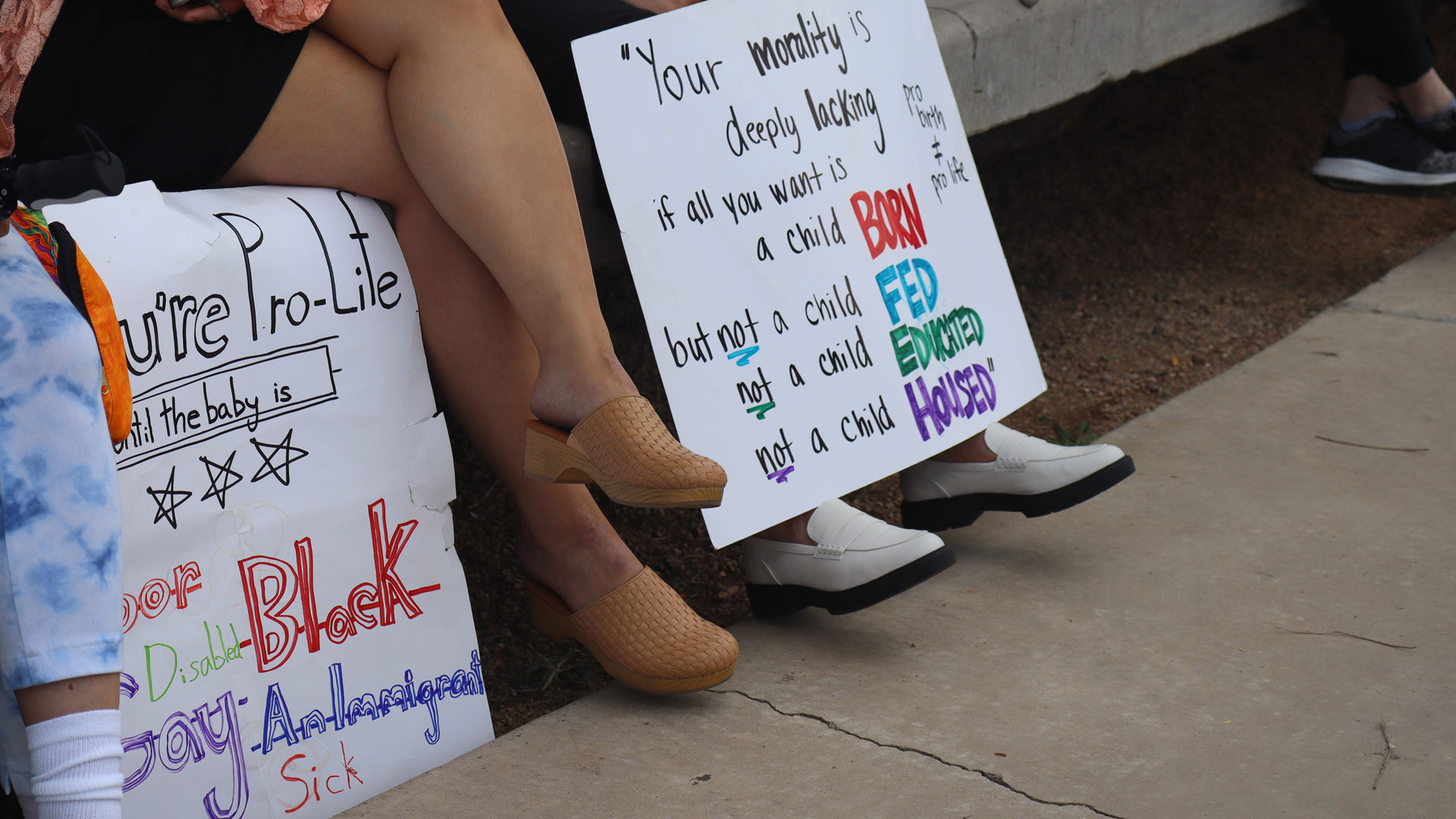 Protestors gathered at the Centennial Pavilion stage in Veteran's Memorial Park in Sierra Vista to protest the U.S. Supreme Court's decision to overturn Roe v. Wade. July 2, 2022
Summer Hom/AZPM
A U.S. District Judge has reinstated a 2021 abortion ban that would prohibit doctors from performing abortions due to genetic abnormalities in the fetus.
Judge Douglas Rayes previously blocked the law from taking effect in 2021 stating that his decision was based on protections that Roe v. Wade gave to pregnant persons at the time, such as the idea of undue burden. However, Rayes says that the Dobbs v. Jackson decision "profoundly changes its legal landscape," forcing lower courts to re-examine previous rulings. Now arguments regarding undue burden are no longer viable in this case.
Rayes wrote that doctors "do not have a constitutional right to perform elective abortions and their patients no longer have a constitutional right to receive them." He went so far as to say that the law does not limit a doctor's ability to provide care for a patient unless the provider knows that the patient is seeking an abortion due to fetal genetic abnormality.
Previously, Rayes wrote in his 2021 opinion, "at what point can a doctor be deemed to 'know' or 'believe' what is in the mind of a patient?" During the mandatory sonogram before an abortion, a doctor may see that there is a genetic abnormality in the fetus. But, unless a patient outrightly says they are looking for an abortion because of a genetic defect, it can be difficult for providers to know if that is the sole reason.
"Providers in Arizona will be chilled from performing abortions whenever they have information from which they might infer that a fetal genetic abnormality is a reason why a patient is seeking to terminate a pregnancy," the judge said in 2021, even going as far to say that resources would eventually become scarce for women in these cases.
University of Arizona Law Professor Barbara Atwood anticipates a 2024 ballot proposition to protect the right to an abortion in the state's constitution. This would likely be the only option to reverse the law in a Republican-controlled Legislature.
The ban comes weeks after the end of Arizona's recent legal back and forth regarding a pre-statehood abortion ban.
If found in violation of the new law, it is a Class 6 felony. The punishment is a one-year prison sentence. The re-instated law also allows the married father of the unborn child to seek relief on behalf of the unborn child if his spouse seeks an abortion due to an abnormality.