Watch Hank Topless performing at AZ Illustrated Arts studio May 22, 2014:
(VIDEO: AZPM)
Hank Topless has lived out the storyline of many a honky-tonk song in his 30-year career. His music, reflective of that, is stark and fiercely honest.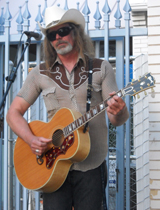 Musician Hank Topless plays a spare style steeped in country and blues. (PHOTO: Hank Topless)
Here's how he describes himself on his own website:
"Sad songs, bad songs, death songs, love songs, get-lost songs, come-back songs, weird songs…mostly in the downtown club / pub / cafe / event scene in Tucson. Will and do travel. Let's see…a little local radio and TV…sat in with the great Les Paul (October, 2005)…had breakfast at 1AM with the inimitable Kinky Friedman…was the diva Linda Ronstadt's gardener."
In an interview with Arizona Public Media's Mark McLemore, Topless says the music he grew up with ran the gamut from acid rock, to bluegrass, to Baroque-period keyboard pieces. His father, a musician, instilled in him a wide love of music. But in a somewhat indirect way. His father would start playing music from his wide collection once young Hank was in bed. But instead of sleeping, Hank Topless was listening. And a lot of music reached his ears, like The Doors The End, with its disturbingly gothic - and oedipal - lyrics. Topless also cites other music that had a big influence:
"Ralph Kirkpatrick's harpsichord version of Bach's The Well-Tempered Clavier. Jimi Hendrix's Are You Experienced?. Burl Ives. Fairly wide ranging. My dad was kind of an experimenter with stuff."
Topless admits he doesn't listen to a lot of other music these days. "I suppose that's because I'm preoccupied with working on my own music," he says.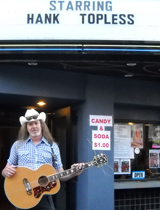 Hank Topless outside Tucson's Screening Room (PHOTO: Hank Topless)
Asked to describe his musical territory - particularly on guitar, Topless says his backing instrumentation only serves to support the lyrics. "I hesitate to use the term gratuitous music. But there's not a lot of musical…extra kind of pork."
As for his sparse guitar style, he points to the influence of several blues players who played in a simple, largely fingerpicking style, such as Mississippi John Hurt, the Rev. Gary Davis and Skip James.
"The sounds those people were getting supplied a really ample backing for their singing. I've certainly done a lot of work with bands in the past, but, for the last seven years, not...I've pretty much always played by myself. So I needed to kick my guitar playing into high gear."
Topless adds, "Playing music is a great challenge. And so performance for me is a combination of training and accidents."
In addition to his interview with Mark McLemore, Hank Topless played several songs for us as a part of our ongoing Spotlight Sessions.
Happy Time Blues video:
(VIDEO: AZPM)

Take Their Time:
Arizona Public Media's Spotlight Sessions are recorded and mixed by Jim Blackwood.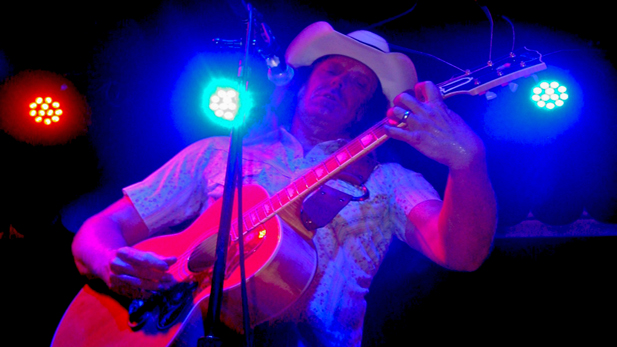 Hank Topless performing at Club Congress in Tucson (PHOTO: Hank Topless)