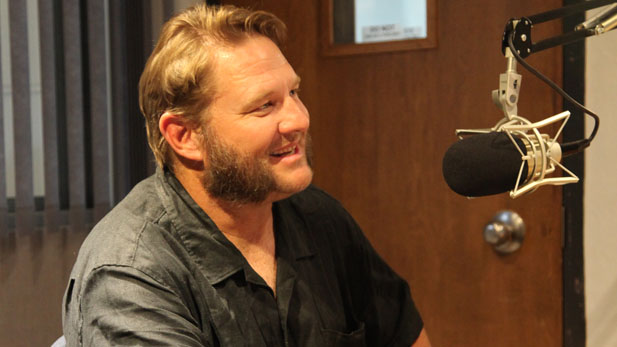 Singer, songwriter and guitarist Mike Kanne talks about his music in the AZPM radio studio
Mike Kanne is a Tucson resident, and a family man who makes his living working with his hands. Music is his creative passion, and although he doesn't play many live shows, or live a life on the road, Mike Kanne loves to write songs.
Kanne says that his guitar playing career began after years of playing and composing on piano and trumpet. A friend left a battered guitar behind after a jam session, and Kanne became hooked on playing it after only a few days. He says that the speed and relative ease of composing on a six-string gave him an exciting new perspective on songwriting.
You can find out more in this Stairwell Session interview with Mike Kanne...

Listen:
Listen to the complete music-only Stairwell Session:
Mike Kanne Stairwell Session track list:
1) Dreaming About Maria
2) Faulty Eyes
3) Ping Pong Song
4) The Way That Momma Cried
5) Rillito Blues
6) Just Sing
7) What Love Doesn't Show
8) Waiting For The Rain
9) Hands Of A Working Man
10) Lullaby Song
September 29th, 2013 / Arizona Public Media radio studios stairwell
Recorded, mixed, and mastered by Jim Blackwood with assistance from Jamison Waddell.

To listen to more artists recorded live on
The Stairwell Sessions
,
please click here
.