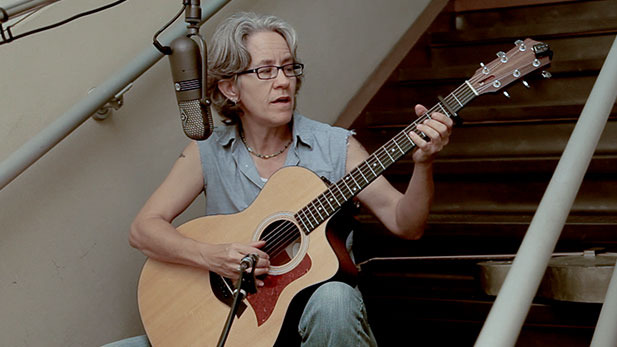 From folk to blues to full on rock n' roll, Mitzi Cowell has earned a reputation as one of the hardest working musicians in Tucson. She also leads the ever-changing Mitzi Cowell Band, a chance for her to play her own songs alongside gems written by other Arizona musicians and her favorite standards. Cowell asked her frequent collaborator Beverly Seckinger to join her on upright bass for some live music, recorded in a small space in this The Stairwell Session...
Listen to the interview with music:
Listen to the complete session of songs:
Track list:
01 White Cathedral
02 My Love Is (Little Willie John)
03 Deep Breath
04 Say Thank You
05 Deathbed Song
06 Something's (Rainer Ptacek)
07 Skipping Through Space and TIme
08 Giving Son House His Teeth Back
09 The Morning After
10 Doggie Life
Mitzi Cowell – Guitar & Vocals Beverly Seckinger - Bass
Recorded August 18, 2014 Recorded, Mixed, and Mastered by Jim Blackwood

To listen to more artists recorded live on
The Stairwell Sessions
,
please click here
.