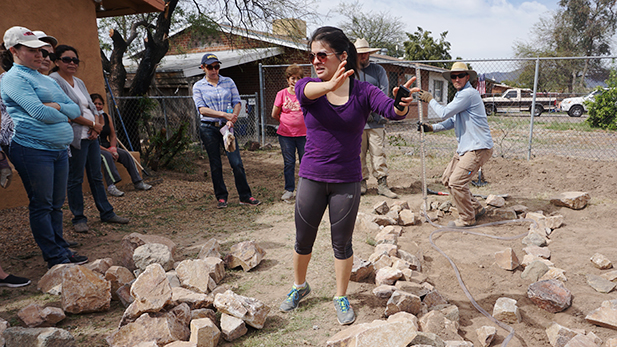 Flor Morales leads a group of women in installing a passive rainwater harvesting system. The experiment is taking place in her yard.
"I think a lot of what's exciting is getting people excited about it. People get a bug as soon as they start collecting some water. Every drop they see leaving they think - that could be mine. That could be watering my plants. " - Jeff Rhody
Listen:
Jeff Rhody of Dryland Design, a consulting firm that installs and consults for rainwater harvesting systems, wants people in Tucson to fully embrace rainwater harvesting.
Capturing rainwater in the desert makes sense.
It can help shade trees to grow, which cool down houses and reduce noise pollution from traffic. The average Tucson family uses 27 percent of their water outdoors, when rainwater that could be used to irrigate plants often just evaporates or runs into sewers.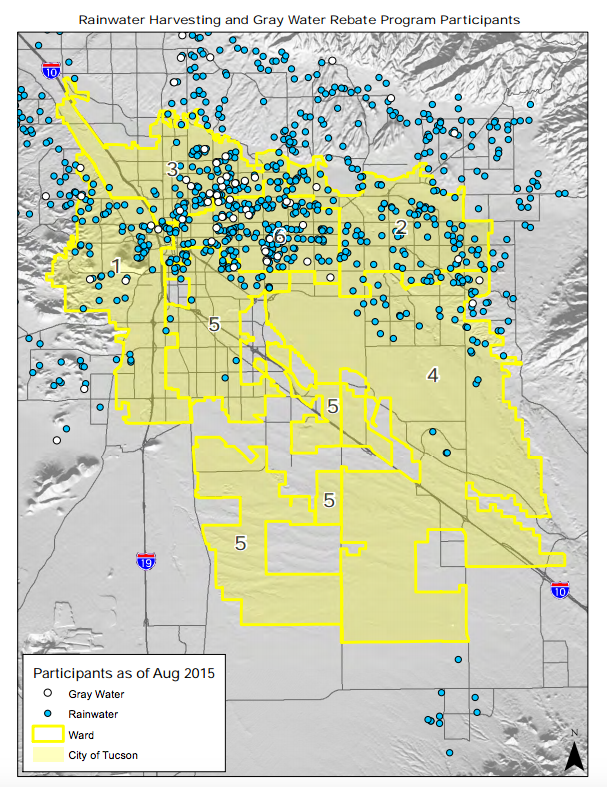 VIEW LARGER Rainwater harvesting and gray water rebate program participants.

City of Tucson
That's why Tucson Water created a
rebate program in 2012
to incentivize the installation of rainwater harvesting systems.
Tucson Water spokesman Fernando Molina says water conservation, historically, has been about reducing water use and that is changing.
"We're looking at other water resources we can use to benefit the community and rainwater is one of those things," Molina said.
However, so far, the program has seen very little interest from the south and west sides of town.
So, Tucson Water reached out for help from long-time nonprofit SERI, the Sonoran Environmental Research Institute.
"We have been working with the community for over 20 years," Flor said. "We are well known, and the way they get to know us, is mostly by word of mouth."
Flor Morales is the program manager for SERI. She's also training 20 woman to be promotoras. Promotoras are Latina community health educators, who work to explain anything from lead detectors to reproductive health.
And now, they've been activated to advocate for rainwater harvesting.
On this Friday morning, these women, all wearing hats and gym shoes, shovel dirt in the front yard of her home. They are preparing to install a passive, rainwater harvesting system as a demo.
She's an energetic blur - getting people water, shoveling dirt, taking iphone photos, translating. The promotoras have been learning with her all week, but this is the first hands-on moment of training.
"All the things they are learning from this two week training, they are going to take all of that information and go talk to their community," Flor said.
The promotoras work primarily with a Spanish-speaking community. They'll do five home visits each in the southern metropolitan areas of Tucson, to explain what they've learned. Promotoras reach out through personal networks to inform and educate people. Flor has really seen it work in the last five years she has been with SERI.
"When I started as a volunteer, we used to go out on the streets, distributing the word. They would always let us into their homes. Many of the times, it was the first time they were meeting us. Also as a Latina, probably if you were somebody else, they would not let them into their home as easy as they let us," Flor said.
Flor's mom, who also happens to be out here digging in the sun, has been doing promotora work for the last 12 years. Flor's mom is also named Flor.
The two of them together, she says in Spanish, make a garden. Which is very appropriate for their work today. Neither Flor is particularly delicate.
"Also as a Latina, probably if you were somebody else, they would not let them into their home as easy as they let us."
In 2004, 14 year-old daughter Flor told her family she wanted something different. They were living in Hermosillo, Mexico. But she had been born in the United States and her father was a permanent resident. As a teenageer, she decided that she wanted to move back to Tucson to go to high school.
The whole family decided to move with her and support her. For her mom, who left behind her certified public accountant job and entered a country where she didn't speak the language, the transition was a bit abrupt. But for Flor, there was a lot to get excited about.
"It's funny, I remember, we used to drive by Tucson High and I had no clue that it was a high school, but I really liked it," Flor said. "Oh, I wish that that's a high school and I get to go to, and yes it was the one I had to go too!"
Her mom started volunteering in the community with SERI. She got Flor hooked on first volunteering with SERI and then working for them full-time.
Now, Flor has a business degree and wants to open her own business centered around health and obesity, which she identified as a problem she saw in the latino community.
The two Flors both believe that the knocking on doors as a form of outreach has real potential, and that the lack of interest in the rainwater harvesting rebate has to do with trust and outreach. Mostly because they have seen it work before so well for their other programs.
"I see families in the stores and they say 'listen, thank you for putting the detectors, the other day something was wrong in my house and the detector let me know'...that's very satisfying to me," Flor's mother said, in Spanish.
In part, it's because they know hear that people don't see the commercials that run on television, or they don't feel comfortable calling an office number to get more info, or they are worried about being charged extra. The cost of installation is also still prohibitive for some, even with a 50 percent rebate of up to $2,000.
In a study done in September of 2015, the researchers found that SERI's promotora program over the course of 4 years, was able to pass on best practices for pollution prevention to over 600 small Hispanic and "hard-to-reach" businesses usually not impacted by government-led programs.
As part of this pilot promotora program, Tucson Water also hopes to install a rainwater harvesting system at the Iglesia Bautista on south 12th Avenue, as a demo for people to come see and touch. Also, SERI will be loaning money for 10 families to pursue the rebate, without having to put money up front. They already have five families committed.
They hope that will make all the difference. Tucson Water is currently evaluating their outreach efforts for the last two years, and perhaps the number will reflect a change in dwindling interest.
For promotora Aida Bustamante, she also gets something out of the training process.. She said in Spanish:
"I feel that I'm still useful ...there's no age limit to this. The more you learn, the more you get excited about continuing the work of passing the information along," Aida said.


Dímelo is brought to you by KUAZ and Finding America, a national initiative produced by AIR, the Association of Independents in Radio, Incorporated. The project is done with financial support from the Corporation for Public Broadcasting, the Wyncote Foundation, the John D and Catherine T MacArthur Foundation, and the National Endowment for the Arts.