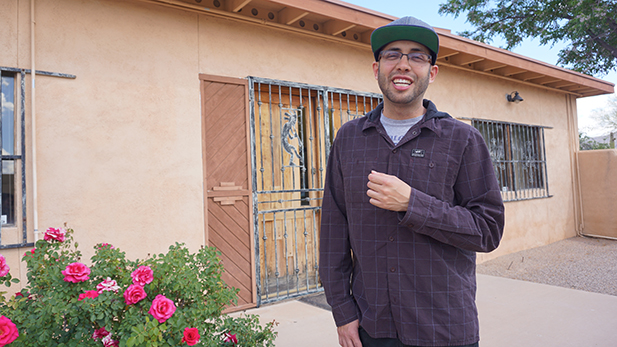 Gabriel Otero in front of his workplace, radio station KPYT.

Sophia Paliza-Carre, AZPM
Dímelo has a dispatch from life-long Tucson resident Gabriel Otero about his neighborhood. He's the program coordinator at KPYT, the voice of the Pascua Yaqui Tribe.
While he takes a break from work, we sit with him in the corner booth of the Sunflower Cafe at the Casino of the Sun, and he tells us about life, his neighborhood and how sometimes the places linked to our memories get knocked down.
LISTEN
We want to bring your dispatch to the airwaves.
Tell us about your corner of Tucson. What's changed in your neighborhood in the last decade, the last five years, or just even since yesterday?
Dímelo is brought to you by KUAZ and Finding America, a national initiative produced by AIR, the Association of Independents in Radio, Incorporated. The project is done with financial support from the Corporation for Public Broadcasting, the Wyncote Foundation, the John D and Catherine T MacArthur Foundation, and the National Endowment for the Arts.