Listen:
Do you know what a stravenue is? Celina Hosp does.
According to the Pima County Code, it's a road that "runs diagonally between and intersects a street and an avenue." Besides its technical definition, it's also a unique, if confusing, characteristic of certain neighborhoods of Tucson.
For Celina, it's just another thing that makes where she grew up a distinct community within a community.
It's a place at the intersection of Benson Highway and Valencia Road, by the Pima Air and Space Museum, that she calls "the deep south side." This area by Benson Highway, she says, with its roads that stop and start without rhyme or reason, feels like the Bermuda Triangle.
"I come from a neighborhood that doesn't play by the rules and isn't too familiar with the term 'logic.'"
As I arrive at Desert Willows, the trailer park where Celina Hosp, 30, currently lives, the sun is setting, and the palm trees stand out vividly against the sky. She's taking me on a tour of her neighborhood, past and present.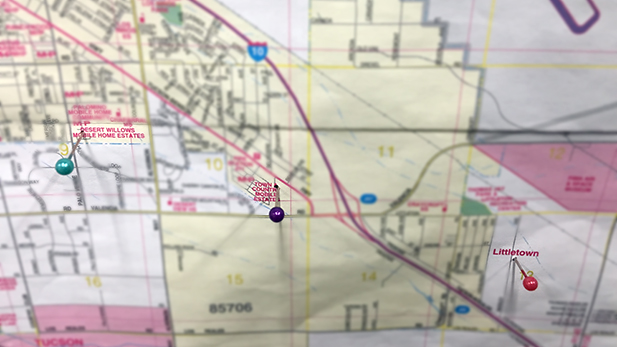 Mariana Dale, AZPM
After spending six months in prison, Celina lives with her boyfriend, Strahan Branouer, in Desert Willows mobile home park.
"I got out of prison in November, and I just called him up, because I needed somebody from home. But I didn't want an idiot, you know? I wanted to get back to my neighborhood and home. I wanted someone who was familiar to me."
It's about a mile away from the trailer park where she grew up: Town and Country Estates. A few miles over is Littletown, a census-designated place and where Celina remembers spending a lot of time with her friends.
"We were into break dancing. We would hang out at the Littletown rec center. There were a lot of gangs. We would drink and smoke pot. Clown each other, have girlfriends and boyfriends. We didn't do much. I didn't like school....I had a lot of fun."
She had fun, but she also grew up feeling unsafe with the gang presence, and sometimes she also got into trouble, stealing or setting fires.
In a few miles radius, is the landscape of her entire childhood.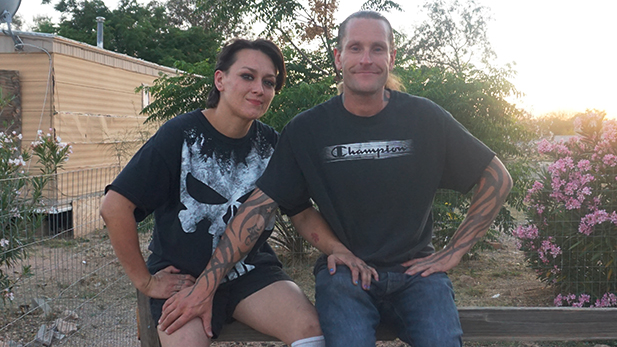 Sophia Paliza-Carre, AZPM
This corner of Tucson is sort of middling, rural space. While it's next to some of the main arteries through town, including the I-10 freeway, it's strangely empty and isolated. Walled-off, new condos stand across the street from ragged looking ranch homes. Celina knows the history of every building.
"This is that carniceria that was a Circle K. That Quik Mart was never there, that Dollar General was never there. This is all in the last five to 10 years."
As we roll into Town and Country Estates, Celina points out where the Long Branch Saloon used to stand, across from the entrance. She always thought she would have her first legal drink there, but it was bulldozed before she turned 21. She remarks that there's no guard at the front of the mobile home park anymore. And that several of the mobile homes would have gotten kicked out back in the day - for torn skirting or just looking too rundown.
Does she think there will be more building, more chain stores opening?
"Oh yea, look at all this desert left."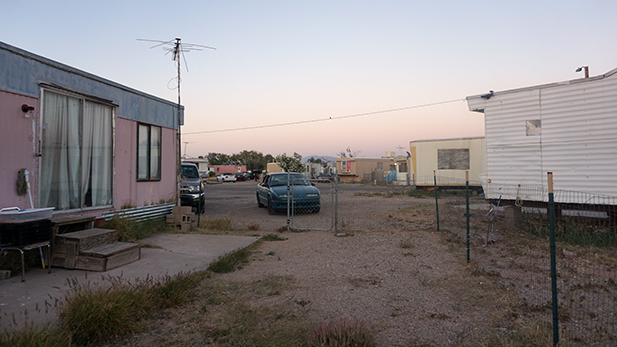 Sophia Paliza-Carre, AZPM
Celina has three kids with an old boyfriend. Right now, they stay with her older sister. Her oldest is an 8 year-old named Sophia who is shy, wears glasses, and likes dinosaurs. Celina said she likes to adventure.

"We have this tree in the backyard of my mom's house, it's the time travel tree. When we go under it, we are in a different time. And we just use our imagination, it's fun."
But, Celina hasn't been to that tree in her while. She's not getting along with her mom right now, or her older sister. She's frank about the fact that she has made mistakes.
"I have had ongoing issue with drug addiction. I've been battling heroin addiction since I was 15. I'm clean now, I've been clean for several weeks. It's really hard. I grew up in a place that kind of not necessarily...encouraged it, but it wasn't discouraged."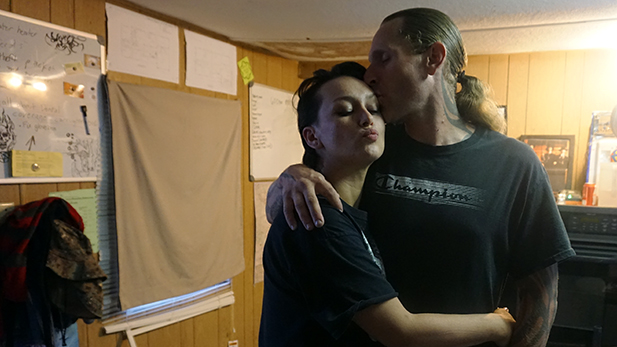 Sophia Paliza-Carre, AZPM
They just built a Walmart on Drexel and Tucson Blvd, but the roads are still full of potholes.
"Neighborhoods grow, I wish that mine would stay the same."
The change in her neighborhood is big enough to disrupt her memory of it, but not big enough to improve the quality of public education available to her kids or install enough streetlights.
When I ask her if she wants to stay in Tucson in the future, Celina said she loves her city, but she wants to travel, see the world. She said, "It's a love-hate relationship."
This story is from a postcard we received through our community-driven project Dímelo. Add your voice. Submit your own story, or answer our question prompt, we change them biweekly.
Dímelo is brought to you by KUAZ and Finding America, a national initiative produced by AIR, the Association of Independents in Radio, Incorporated. The project is done with financial support from the Corporation for Public Broadcasting, the Wyncote Foundation, the John D and Catherine T MacArthur Foundation, and the National Endowment for the Arts.