As she walked up to the front of the room to receive the Kathryn Anne Governal Perseverance Award, Karen turned and shouted "I did it!" She received raucous applause from the crowd in response.
This award has been a long time coming. It's given to a graduating student at the University of Arizona School of Journalism who has persevered in the face of difficult challenges.
Karen Schaffner, 58, is finally graduating with her bachelor's degree, after stopping and starting her studies over the course of 41 years.
It was her lifelong dream to get her college degree. Life had always simply got in the way and she had prioritized other things– her cultural upbringing, raising her children, taking care of her husband and home and the household budget.
A few years ago, her husband, who had been unemployed for 9 months, came home one day from his new job and asked "what would you do if something happened to me?" Then, Karen decided, it was finally time to go back and finish.
This is her story.
Listen: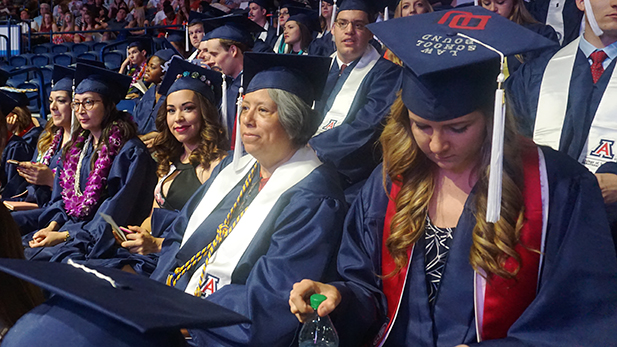 Karen Schaffner has been waiting for her graduation day for a very long time.

Sophia Paliza-Carre, AZPM
"My parents were very traditionally Mexican. When I came of age at that time, in the 70s, it was right when the women's movement was really becoming strong. So they were really really opposed to that. For my brothers, it was become a professional, for me it was marry a professional."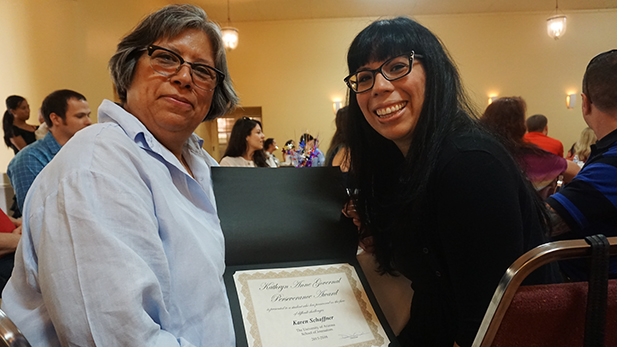 Karen and her daughter, Misa, after receiving the Kathryn Anne Governal Perseverance Award. Karen's name will also be on a plaque in the journalism school.

Sophia Paliza-Carre, AZPM
Return to school
"And I thought, I can't go back to it. I'm a dinosaur. I don't know anything about social media. I knew what it was, but I didn't know how to tweet, Instagram. None of those things."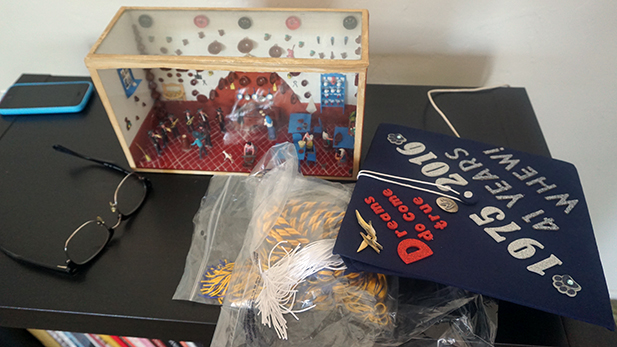 Sophia Paliza-Carre, AZPM
"So, I had my book bag, which I bought special. And my new pens and notebooks. So I was all ready. And the night before my husband and I drove to the university and I walked around until I found the building so I knew where to go. And anyways, that day, I got there real early and I was standing in the hall and I had my little cellphone and I was texting my daughter and, you know, I looked around me and I saw all these young people doing the same thing. And I thought they're as nervous as I am. I'm not the only one who is nervous. And it made me feel better."
"I looked ahead at the end and I thought, don't look there you won't finish. I just can't look that far ahead."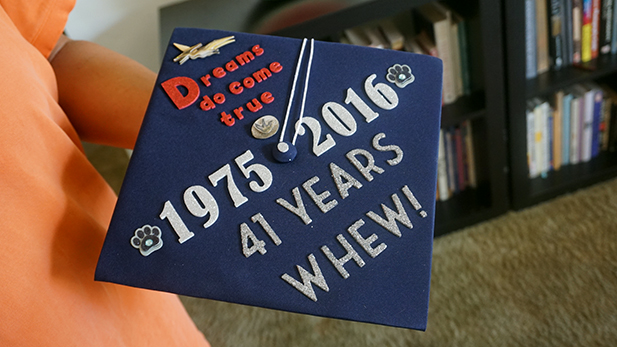 Sophia Paliza-Carre, AZPM
"It cost us a lot for me to go. Not just in terms of money... I should be working, not going to school. I should be bringing in money, not costing us money. Jude, my husband, he took a back seat. We both knew this is what's important.'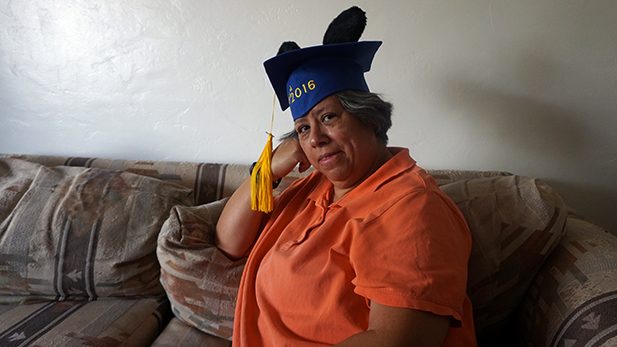 Sophia Paliza-Carre, AZPM
The big day
"It is crazy, all my children are in now, it's been a lot of running to the airport and trying to think about what I'm going to have for dinner, and that sort of thing. This is the first time I've allowed myself to think I did something."
"On the other hand it's also scary. I don't know what's ahead. I have an internship for the summer, but beyond that I just don't know."
"Everything is going to change. and I don't know how, and how I'll be affected by it. But that's alright. Let's go for it."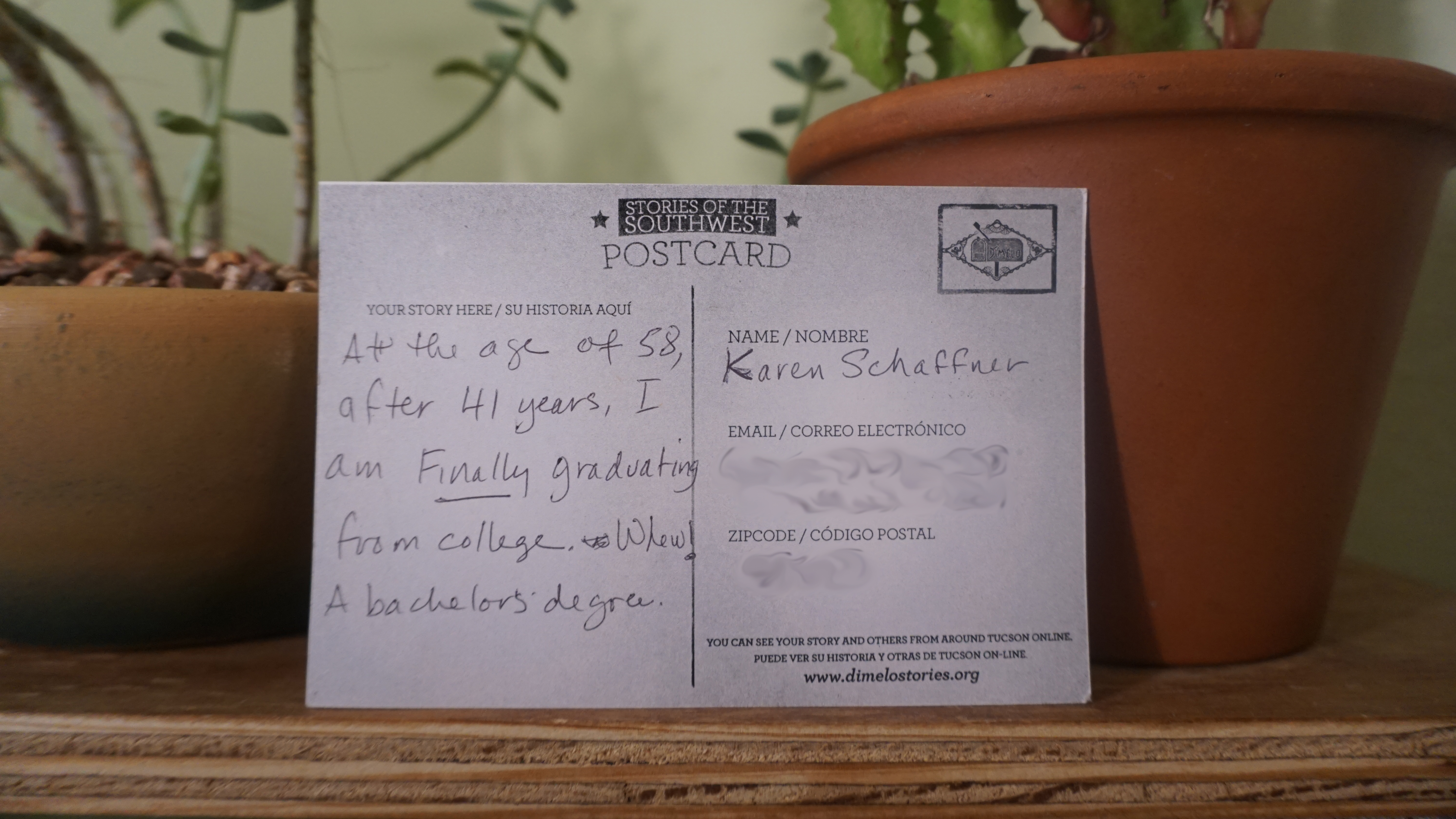 Karen's postcard for Dímelo: Stories of the Southwest.

Sophia Paliza-Carre, AZPM
Share your story
This story is from a postcard received at El Río Community Health Center. Fill out your own postcard below. Go to www.dimelostories.org for more details on how to participate.
Dímelo is brought to you by KUAZ and Finding America, a national initiative produced by AIR, the Association of Independents in Radio, Incorporated. The project is done with financial support from the Corporation for Public Broadcasting, the Wyncote Foundation, the John D and Catherine T MacArthur Foundation, and the National Endowment for the Arts.