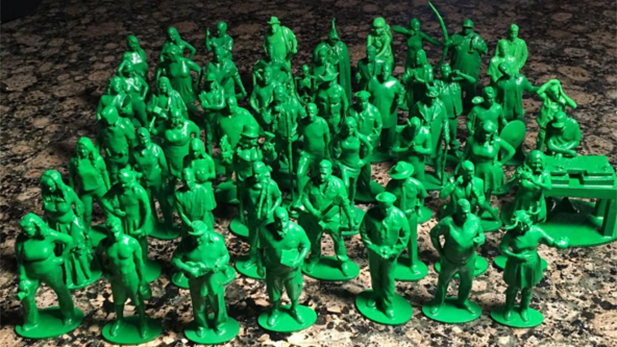 Courtesy: Rudy Flores
You may have noticed some unusual mailboxes around town. They are part of our community storytelling project, Dímelo: Stories of the Southwest. They were designed and created by Tucsonan artist Rudy Flores. Today, we go to his studio to learn about another community project of his, the army he's creating: a miniature, green plastic army.
At the Studio
Rudy Flores is constantly being interrupted in his downtown art studio, by the creaking floorboards and the music from the dance classes above. On the floor of his studio, is a big "X" marked out in duck tape.
Lately, all kinds of people have been passing through his studio. Many musicians and artists come through, but also local business owners and a few people from the U.S. Marshal Service.
What they all have in common is that they all come here to stand on that "X" and get 3D scanned and printed into tiny green plastic figures.
Rudy put the Army Man Project on Kickstarter in June 2015. It was fully funded within 2 weeks. With the help of his partner Teresa Estrella and his son Gabe, Rudy now has printed nearly 300 army figures of Tucsonans. Once he has fulfilled his Kickstarter quota, they will be exhibited at Hotel Congress, as a sort of retrospective of the Tucson community, in miniature.
"Somebody called this whole project a cultural army."
People can bring whatever they think represents them best - no kids or pets though, they wriggle too much for the scan. People have brought wine they've made themselves, musical instruments, and elaborate harry potter costumes.

He appreciates the intimacy the project has allowed him to have with people all across the city.
"It's really nice being able to sit down with them one on one, let them get in their pose, and kinda convey what they do in a still pose and try to capture that moment."
So far, he he has a cabinet full of 3 inch and 7 inch army figures of Tucsonans. There are photographers, cosplayers, a weight lifter, a bar owner, a DJ, and more.
---
A Personal Project
Rudy's a quiet kind of guy, with a knack for technical knowledge, who never thought he'd be teaching himself 3D printing. His dad worked for Davis Monthan Air Force Base, as part of the Air National guard.
"He used to work on F-16s and fighter jets. That's what I wanted to do, when I was growing up.... ended up having to wear glasses, and I don't think you're allowed to wear glasses and be a pilot."
He worked at a record shop instead, and then settled into a job designing and restoring signs at Cook & Company Signmakers, where he has been working for the last 20 years.
Then, 5 years ago, he got divorced. And for the first time ever - Rudy started creating personal art on the side, which is how the Army Man Project happened.
"I needed to focus on something to just kind of take my mind off...instead of picking things I shouldn't be involved with, what I chose was art. It was something I hadn't explored and there were venues for me to get my feelings out. Mostly because of my kid, I don't want to be that dad that goes off the deep end...there's no reason for that."
So he started working - all the time. Evenings, weekends, and during lunch breaks. He started scanning musicians that he loved - punk artists like Macedon and Godhunter. Then, his son Gabe suggested he scan community members.
The first figure Rudy scanned and printed for the Army Man Project was his 13-year old son.
---
Becoming Acquainted
Each and every scanning session Rudy does is its own unique, intimate experience. As Rudy sets up each person with their props and they strike a pose, they open up about their lives to him.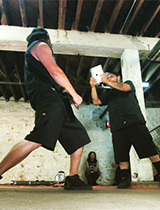 Courtesy: Rudy Flores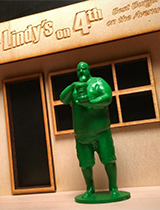 Courtesy: Rudy Flores
Al, a U.S. Marshal, is leaving for a new job in Sacramento this month. His scan is a going-away present from his coworker. While getting scanned, he talks about how he began 12 years of Marshal service.
"September 11th, my wife's uncle worked at the World Trade Center. After everything was said and done, I said to her I couldn't sit on the sidelines. I had been a paratrooper before and sitting on the sidelines was not my gig."
During his scanning session, Graffiti artist and muralist Rock Martinez muses on what drives his art.
"More of my stuff is...it's just beautification rather than destruction...I try to create something that has a shock and awe factor with it that people can't believe I did it with a spray can."
For some, the Army Man Project is about becoming an action figure. For others, it's about creating a memento. For Rudy, the project is just about having genuine human interactions.
"You get a sense of community. I love that part of it. Oh, I know that person or I work with them. It's leading up to this exhibit, where all these little figures will be. These people may get reacquainted, or we've had people become friends because of this. To me that's an added value. Just … becoming acquainted."
Dímelo is brought to you by KUAZ and Finding America, a national initiative produced by AIR, the Association of Independents in Radio, Incorporated. The project is done with financial support from the Corporation for Public Broadcasting, the Wyncote Foundation, the John D and Catherine T MacArthur Foundation, and the National Endowment for the Arts.