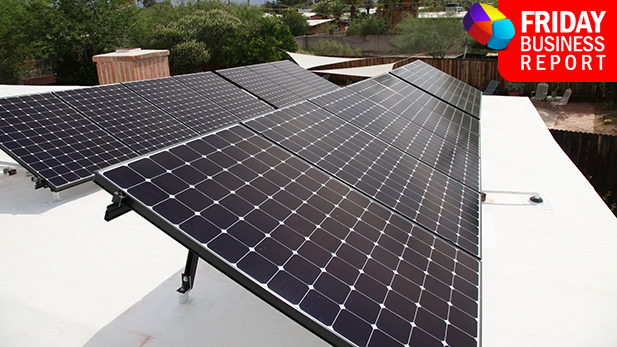 Listen:
It has been slow going for The Solar Store lately.
"Business is down probably 30 to 35 percent from where we were last year at this time," said company President Katharine Kent.
Recent battles surrounding net metering rates - the amount a utility pays to buy excess electricity from rooftop solar users - have left solar installers unable to answer some simple questions when talking to potential customers.
They are unsure of how much a system can generate and how long it will take to recoup the costs of purchase and installation.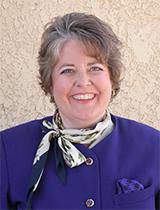 The Solar Store President Katharine Kent
"This industry has been sure of uncertainty since we started 19 years ago, with federal tax credits coming in and out and utility incentives coming and going, but this particular level of uncertainty has not carried with it the possibility of something happening good in the future," Kent said.
For Tucson Electric Power customers, the utility credits a rooftop solar user's account for any excess electricity, essentially paying that customer the same rate they are charged.
The company is instead proposing to reduce that rate to the wholesale price of electricity, which is around half of what it charges customers.
Arizona Public Service has also sought changes to its net metering rates, and there has been talk from electric utilities of charging solar users a fee. The companies say this would ensure solar users are paying their fare share of grid maintenance costs.
While the debate over net metering rates has been ongoing for some time, it has picked up steam in recent weeks.
A group headed by former Arizona Corporation Commissioner Kris Mayes started collecting signatures on a referendum that, if approved, would put net metering rules in the state Constitution.
Kris Mayes co-authored the Arizona Renewable Energy Standard, which laid the groundwork for the growth of solar power in the state. (PHOTO: Courtesy ASU )
"[The reason for the referendum is] so that solar energy can thrive, so people know they can go solar, and so small businesses can continue to grow and employ people in the state of Arizona through the installation of solar systems," Mayes said.
Mayes said the referendum is now moot, and her group has stopped the effort.
Mayes' group was backed by national solar installation and leasing chain Solar City.
The end of the initiative came after two bills were introduced in the Arizona Legislature for referendums to cancel Mayes' effort.
"It circumvented our Arizona Constitution," said state Senator Debbie Lesko, R-Glendale, who introduced one of the bills. "It took away authority from our elected Arizona Corporation Commissioners, and I felt that we needed to do something."
Instead of allowing both efforts to go forward, both sides have agreed to end any attempt at putting solar before voters in November. They will instead negotiate.
It is not Mayes and Lesko who will do the talking. Representatives of Solar City and Arizona Public Service will meet at Gov. Doug Ducey's office in the coming days and work through the issue with a mediator.
Mayes said she is hopeful the matter can be worked out within 10 days.
"We need these issues resolved, and we need them resolved quickly," she said. "The utilities have been making proposals for the last five years that have caused uncertainty for the installers in Tucson and throughout the entire state."
Lesko said she is pleased with the results of the situation, if the talks break down the matter stays in the hands of the original regulators.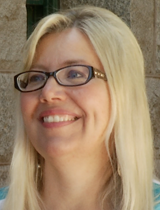 State Sen. Debbie Lesko, R-Glendale. (PHOTO: azpm)
"And also, in case it doesn't happen, it's the Arizona Corporation Commissioners that will decide," she said.
The maintenance of the status quo may not be good news for small solar businesses such as Kent's Solar Store.
"We're sitting here and going and talking to people about putting photovoltaic systems on their homes or businesses, and yet, we can't provide any clear numbers," she said.
That leaves her sales staff unable to show that solar is not just a green option, but a sound financial one too.
"A lot of people do still decide to do it because it's green and it's right and it's good for the grandchildren and stuff like that," she said. "But in reality most people's decisions are based on economics."
Without a net metering policy that makes solar work out in dollars and cents, Arizona's rooftop solar installers may see this slower pace become a new normal.

Subscribe to the the Arizona Business Report on
iTunes