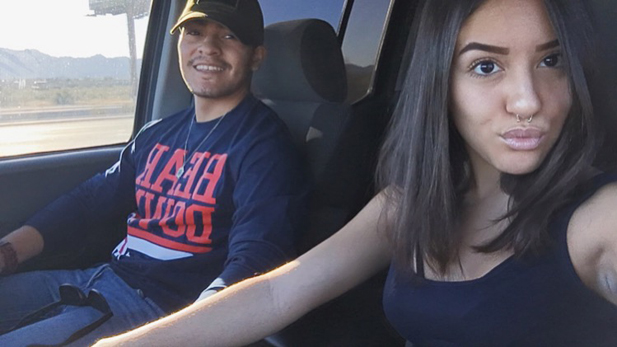 Summer and Israel tell people they met at a football game, but that's not the real story. "We actually met on Facebook, and I was like that's so lame that we met like that," Summer said. "It's so cliche, but whatever."

Courtesy Summer Soto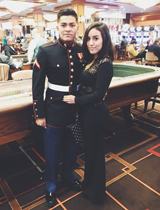 Summer and Israel at a Marine ball. (PHOTO: Courtesy Summer Soto )
After Summer Soto left her boyfriend at the airport, she drove north to a scenic vista, parked her car and looked out over Tucson.
"All of a sudden it was like nothing was the same any more when he left. The drive home was different, the sunset was different. I came up here because I thought maybe things would be better. They were just like a little bit better, not that much."
Summer 19, is a business student, a lifetime Tucsonan, and she's in love.
Her boyfriend, Lance Cpl. Israel Corte is deployed to Okinawa, Japan. With the help of her cell phone, a stack of handwritten letters and a special place in Tucson, Summer is learning to weather the distance.
Summer and Israel brought their story to us via a postcard in one of the Dímelo mailboxes, find out where they are here, or share your story below.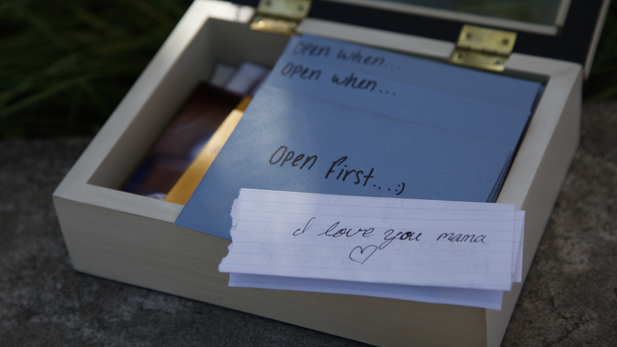 Israel left summer with a stack of envelopes before he deployed. Each one says "Open when," followed by a feeling or scenario. "Sometimes I really don't say the right things," Israel said. "I just wanted to put it on paper for her so when I don't always have the right words that she knows she can always find them in those notes."

Mariana Dale
Dímelo is brought to you by KUAZ and Finding America, a national initiative produced by AIR, the Association of Independents in Radio, Incorporated. The project is done with financial support from the Corporation for Public Broadcasting, the Wyncote Foundation, the John D and Catherine T MacArthur Foundation, and the National Endowment for the Arts.