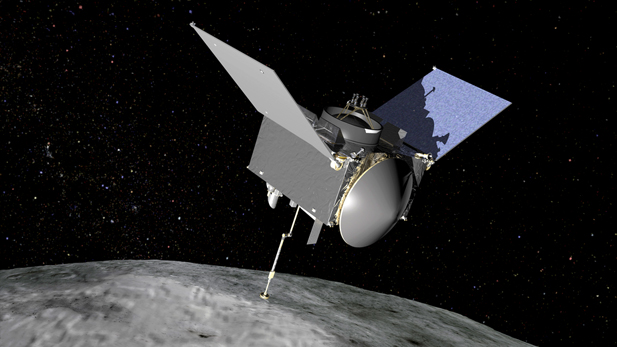 An artist's conception of the OSIRIS-REx spacecraft at the asteroid Bennu

NASA/GSFC
An asteroid sample collected by a University of Arizona-led mission could provide clues to the origin of life and the formation of the solar system.
The NASA mission is scheduled to blast off from Kennedy Space Center in three weeks.
It's been a dozen years since UA planetary scientists got a call from spacecraft builder Lockheed Martin asking if they were interested in proposing to NASA an asteroid mission. The launch next month of the spacecraft called OSIRIS-REx is the beginning of a seven-year journey to get a sample and bring it back to Earth where it will be studied for years to come.
The UA's Dante Lauretta leads the project. He and NASA mission leaders talked about the upcoming journey in a briefing at NASA headquarters Wednesday.
"It really is a great adventure. We're going out into the unknown. We are bringing back scientific treasure," Lauretta said.
Scientists hope to grab at least 60 grams – about 2 ounces -- of material from the asteroid named Bennu. Dr. Lauretta said the equipment is capable of bringing back more than twice that amount. And in tests, the sample acquisition mechanism grabbed as much as 4.4 pounds of sample material.
Whatever it brings back is scheduled to return to Earth in 2023.
Gordon Johnston is NASA's program manager for the mission. He says fractions of the sample will be shared with partner nations Canada and Japan. OSIRIS-REx scientists will do their evaluations at the Johnson Space Center in Texas.
"Three-quarters of the sample will be set aside for future researchers for the science questions we haven't figured out to even ask yet, and the science laboratory instruments that we haven't even developed yet," Johnston said.
How will it grab the sample from the asteroid Bennu? The spacecraft will approach, stir up dust and dirt, then vacuum it up just above the surface.
Before that, the spacecraft will conduct a two-year study of the third-of-a-mile wide rock and look for a good spot to get the sample.
"We're going to get to asteroid Bennu, and we're going to map this brand new world that we've never seen before," Lauretta said.
OSIRIS-REx carries cameras that were developed at the UA. Lauretta said the cameras will first be aimed at stars for calibration tests as it orbits the sun.
"There will be great images of star fields about six months after we launch," he said.
Johnston said a camera will take pictures of Earth a year after launch as the spacecraft uses our planet's gravity like a slingshot to gain a boost for its trip to the asteroid. And the first images taken of Bennu in 2018 will show it as a single pixel, appearing as a pinpoint of light.
Johnston said the discoveries from the mission could spawn more trips to asteroids.
"I fully expect that the fabulous discoveries of the OSIRIS-REx mission will open up new questions that will then be reflected in future decadal surveys and future missions," Johnston said.
Lauretta says that also means what he calls the treasures of this mission will deliver scientific information for a long time.
"Sample return is the gift that keeps on giving."
That's occurred before. Moon rocks gathered on the Apollo missions of the 1960s and '70s are still being studied, using new scientific techniques.
Why's it called OSIRIS-REx?

Origins Spectral Interpretation Resource Identification Security-Regolith Explorer