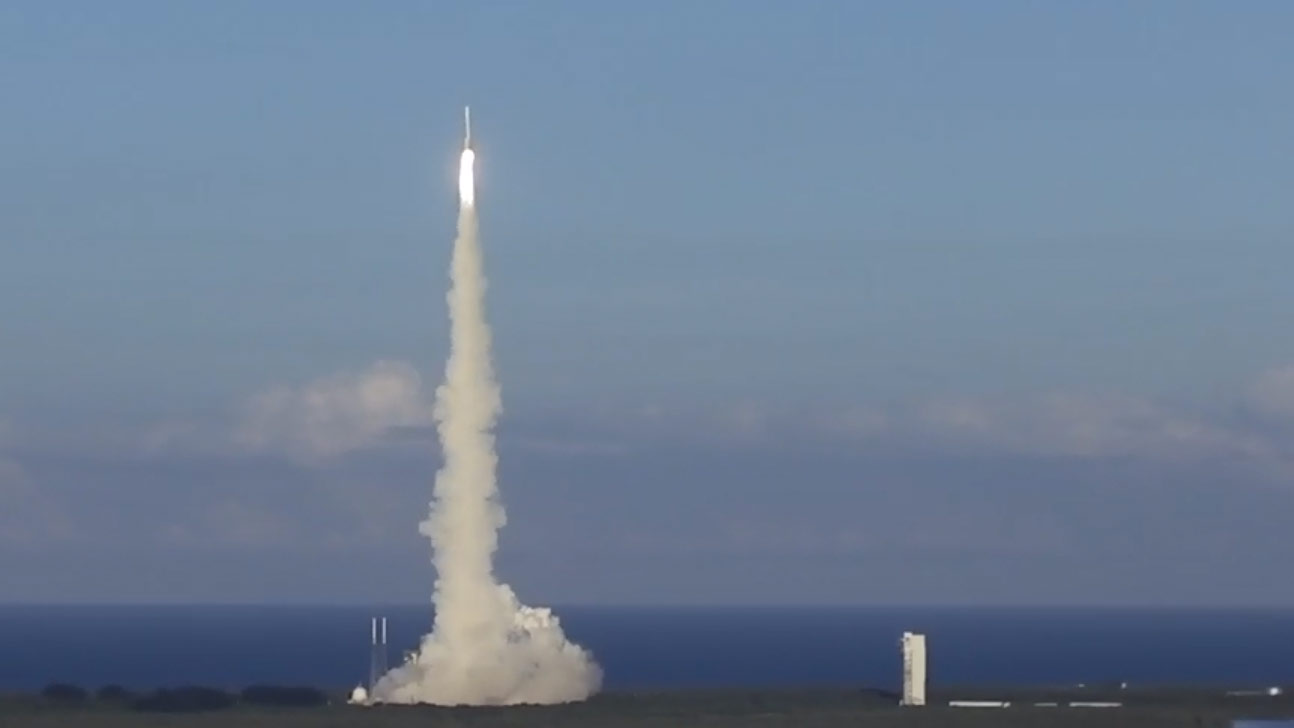 An Atlas V rocket with the OSIRIS-REx spaceraft atop, lifts off from Kennedy Space Center Sept. 8, 2016.

NASA TV
CAPE CANAVERAL, Fla. – A 191-foot rocket sent the spacecraft of a University of Arizona-led asteroid sample mission hurtling through the air today to embark on its seven-year journey.
Conditions at NASA's Launch Complex 41 on Cape Canaveral, Florida, were ideal when the OSIRIS-REx mission's Atlas V rocket blasted off at 4:05 p.m. Tucson time.
Less than 10 minutes after launch, NASA posted on Twitter that the spacecraft was on its way and on time. A little over an hour later, mission managers deemed the craft healthy as it separated from its booster, opened its solar panels and sent signals back to mission control.
All in all, the launch went off without a hitch, mission executives said at a post-launch briefing.
The mission is led by UA planetary scientist Dante Lauretta and his team of scientists, all of whom gathered at a special viewing party to watch the launch.
An ebullient Lauretta came into the press briefing room after the launch pumping his fist.
"You all will be glad to know we just got everything exactly perfect," Lauretta said. "We've worked hard to get to this point. The best times are ahead of us."
The mission, which has been in the works for more than 12 years, shot the spacecraft at supersonic speeds out of Earth's atmosphere on its way to asteroid Bennu, where it will collect at least a couple ounces of surface material to bring back to Earth.
Scientists believe the sample contains clues to the early history of our solar system, and consequently the origins of life on Earth. The mission holds another purpose: to study the effect of sunlight on the "potentially hazardous" asteroid's trajectory and the possibility that it could hold Earth in its path late in the 22nd century.
The sample it brings back is scheduled to return to Earth in 2023.
Gordon Johnston is NASA's program manager for the mission. He says fractions of the sample will be shared with partner nations Canada and Japan. OSIRIS-REx scientists will do their evaluations at the Johnson Space Center in Texas.
"Three-quarters of the sample will be set aside for future researchers for the science questions we haven't figured out to even ask yet, and the science laboratory instruments that we haven't even developed yet," Johnston said.
How will it grab the sample from the asteroid Bennu? The spacecraft will approach, stir up dust and dirt, then vacuum it up just above the surface.
Before that, the spacecraft will conduct a two-year study of the third-of-a-mile wide rock and look for a good spot to get the sample.
"We're going to get to asteroid Bennu, and we're going to map this brand new world that we've never seen before," Principal Investigator Dante Lauretta said.
OSIRIS-REx carries cameras that were developed at the UA. Lauretta said the cameras will first be aimed at stars for calibration tests as it orbits the sun.
"There will be great images of star fields about six months after we launch," he said. Johnston said a camera will take pictures of Earth a year after launch as the spacecraft uses our planet's gravity like a slingshot to gain a boost for its trip to the asteroid. And the first images taken of Bennu in 2018 will show it as a single pixel, appearing as a pinpoint of light.
Johnston said the discoveries from the mission could spawn more trips to asteroids. "I fully expect that the fabulous discoveries of the OSIRIS-REx mission will open up new questions that will then be reflected in future decadal surveys and future missions," Johnston said.
Lauretta says that also means what he calls the treasures of this mission will deliver scientific information for a long time.
"Sample return is the gift that keeps on giving."
That's occurred before. Moon rocks gathered on the Apollo missions of the 1960s and '70s are still being studied, using new scientific techniques.