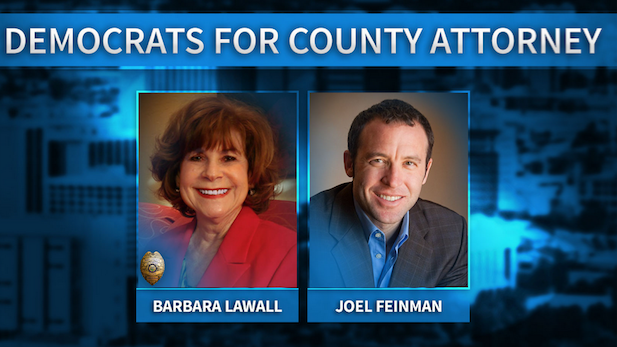 Robert Jaime, AZPM
Leadership is the top issue in the Democratic race for Pima County attorney, with long-time incumbent Barbara LaWall touting hers and challenger Joel Feinman calling it inadequate.
LaWall, who is seeking her sixth term, put a heavy emphasis on her experience leading the office.
"I have spent the last 40 years as a prosecutor in this office," LaWall told Arizona Public Media in a candidate forum earlier in the month.
"I have dedicated my entire legal career to protecting the community, to serving victims of crime, to running an office that develops innovative, unique and creative programs to fight and protect crime victims and children and families and schools."
Feinman, a criminal defense lawyer, has challenged LaWall's claims of success, saying too many people have been to prison at too high a cost to taxpayers under LaWall's leadership.
"Sixty-four percent, approximately, of Pima County's budget goes to law and justice and order, and we are spending that money at a time during which Arizona has the sixth highest incarceration rate per capita in the United States," Feinman said in the forum.
The winner of the Democratic primary will face the Green Party's Cynthia Tuell in the general election. No Republican ran for the seat.