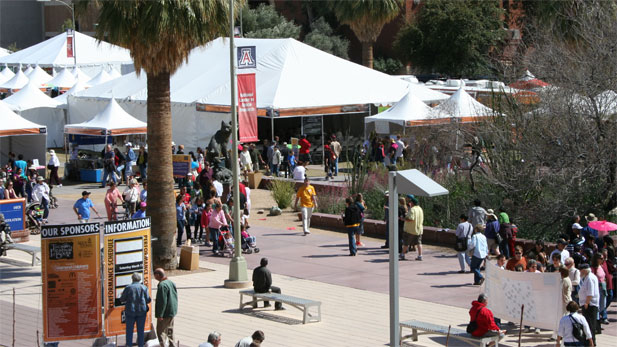 The ninth annual Tucson Festival of Books is this weekend, and amid the hundreds of authors and 130,000 attendees will be a small army of volunteers.
Festival founder Bill Viner opened the training session for volunteers one recent morning with this greeting:
"You really are the engines behind the program. Without you, there is no Tucson Festival of Books."
Tucson's festival is a community effort, requiring almost 1,500 volunteers to staff information desks, set up and take down booths and monitor lectures and book signings.
The plum spots, for some, are on the author transport crew, made up of people who drive visiting authors to and from the airport, hotels and the festival itself.
"I have been a driver," volunteer Jerry Price said. "I started the first year of the festival, and meeting the authors and being able to talk with them in the car where it's just me and them. That's really good."
The second year, Jerry chauffeured naturalist Sy Montgomery – author of "The Good Good Pig," a best-selling memoir about her life caring for an undersized piglet.
Jerry's wife, Colette Price, said it was a delightful experience.
"They stopped by the house after he had taken her somewhere," Colette said. "She just wanted to see more of the area after she finished her presentation, so we met and chatted, and we all just clicked really well and stayed in touch throughout the following year. Then when she was invited back, she stayed with us at our house."
The Prices introduced Montgomery to some of their favorite places, including the Arizona-Sonora Desert Museum. There, Jerry said, they watched her enchant a herd of normally shy javelinas.
"Animals just seem to be drawn to her," Jerry Price said. "She stood there for an hour watching them, and they were drawn to her, and as fascinated by her as she was by them."
Montgomery also asked Jerry, a retired English teacher, to take a look at her book while she was still writing it. It became the best-selling "Soul of an Octopus: A Surprising Exploration in the Wonder of Consciousness."
"I found a couple of things that might have worked better if changed and she did, and so in the acknowledgments my name is in there," he said. "She seems to believe our friendship has made her writing better than it was before, which is difficult to imagine, but she seems to think so."
Such interactions are what makes the Tucson festival stand out from other such events, volunteer coordinator Mike Ritz said.
"There's lots of opportunities for volunteers and even the general public to interact with authors and really get a feel for what these people are like, and what they're thinking," he said. "That's an opportunity you don't find in a lot of cities."
For almost a decade, Holly Shenitzer has chaired the Hospitality Committee, which helps authors with everything from plane flights and hotels rooms to the well-stocked quiet room at the festival.
Shenitzer said festival organizers strive to make authors feel special.
"The authors really enjoy coming here because usually they're just at home or their office doing writing, and then when they get to come out here and spend a weekend and meet the community, they enjoy it," she said. "They're not treated like this at any other festival. They really do feel like they are rock stars here."
You really are the engines behind the program. Without you, there is no Tucson Festival of Books" - Festival founder Bill Viner to event volunteers
Shenitzer was at a festival-related dinner that led to a new book. She and friends were invited by former "Saturday Night Live" writer Alan Zweibel and humorist Adam Mansbach to dinner one year. Their meeting resulted in the young adult book "Benjamin Franklin: Huge Pain in my...."
"They were still talking when we got them back in the car, and were taking them back to their individual hotels," she said. "That was really exciting to put authors together, and the only way they met was through the Tucson Festival of Books."
The festival runs all day Saturday and Sunday at the University of Arizona Mall. Click here for the full schedule of events.