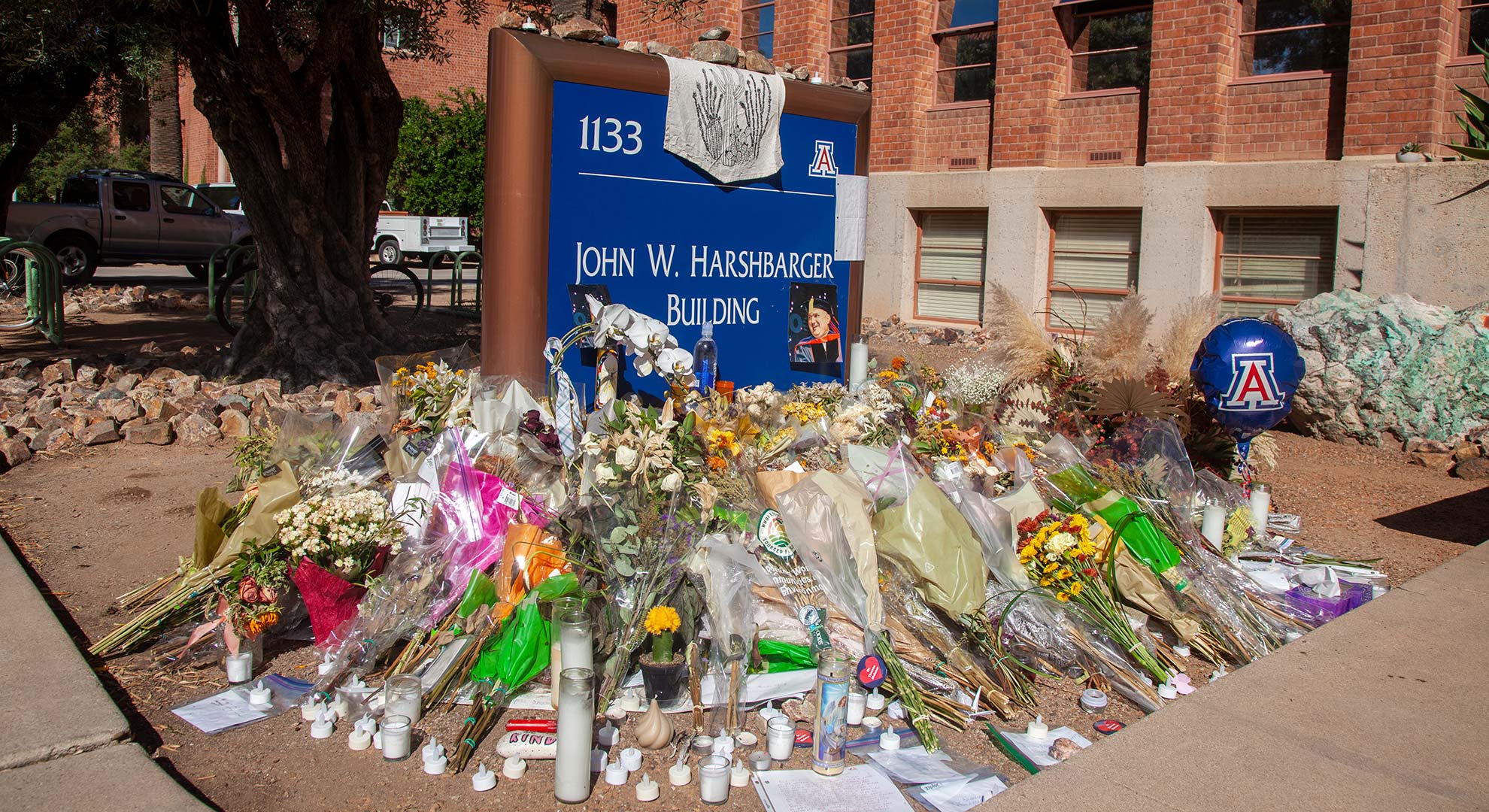 Flowers, candles and letters lay in front of the Harshbarger building sign following the murder of Professor Thomas Meixner on Wed. Oct. 5, 2022 at the University of Arizona. Meixner was killed by a former student on campus.
Paola Rodriguez/Arizona Public Media
It's been over a week since the deadly shooting on the University of Arizona campus that killed Dr. Thomas Meixner, the head of the Department of Hydrology and Atmospheric Sciences.
The event continues to be felt on campus by faculty and students, and comes with concerns that the university could be better prepared to prevent such incidents
Ian Storjohann was attending a class at the time of the student, and said the way his professor handled the situation felt odd.
"It didn't seem like he was trained to handle a situation like that. We didn't turn off the lights or try to barricade anything. He really just continued to teach, which was strange to me. Just acting like nothing happened, which was strange to me," Storjohann said.
Maryn Coate, also a UA student, had similar observations.
"We have no shooting drills. There's no locks on the doors, which I hadn't really noticed before. There's nothing really to prevent this from happening and even while it was happening students were still walking around," Coate said.
As details such as what was found in the suspected shooter's car emerge, a pillar that stands in protest to UA reaction to the incident now stands on the UA mall not far from the Harshbarger Building, where the shooting took place.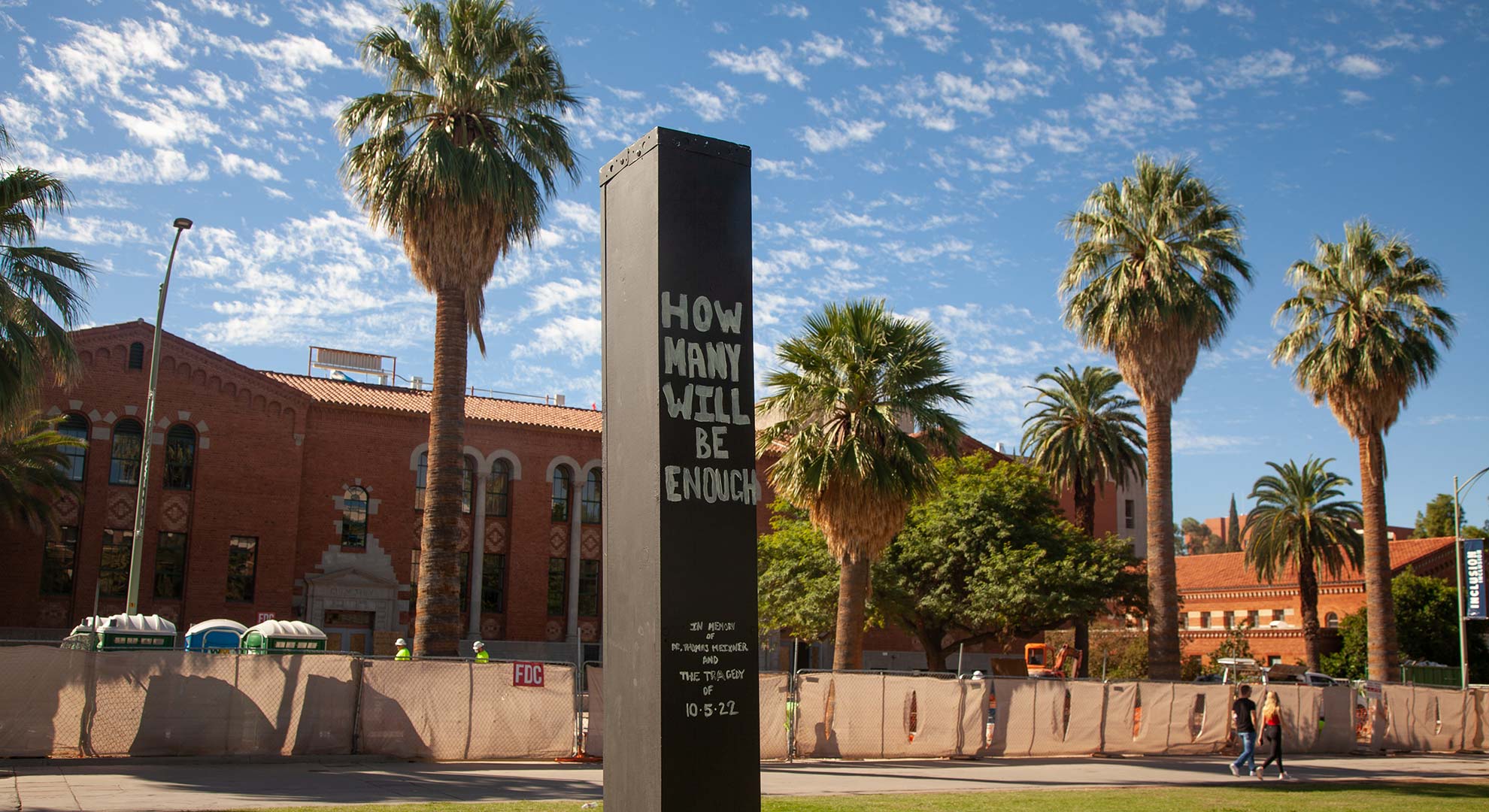 A black pilar that says "How many will be enough" stands in the middle of the University of Arizona Mall one week after the killing of Professor Thomas Meixner on campus. A few days prior university officials held a candlelight vigil where the pilar stands.
Paola Rodriguez/Arizona Public Media
The University of Arizona Police Department tells AZPM that, due to staffing shortages, its request for emails and other documents that could shed light on how the university handled the situation before the shooting could take months to fulfill.
The university said that any public records requests around the incident will be delayed as well.
It also said that an outside firm has been contracted to complete an investigation, and it anticipates having a report from that firm within 75 days.
As the University of Arizona continues to deal with a shooting on campus, the police agency it often works with in such situations continues to grow its efforts around violent and gun-related crimes.
Earlier this year, the Tucson Police Department announced the formation of a new unit focused on reducing violent crime in the city.
The unit will also now receive some funding from a $2 million federal grant aimed at reducing gun crimes and other serious violence.
From 2018-2021, 80 percent of homicides in TPD jurisdiction involved gun violence, according to Capt. Stacie Shaner, who oversees the new Violent Crime Reduction Unit along with other areas in the department's Patrol Services Bureau.
"The goal is to build a program that uses the community to address violent crime in our cities," said Capt. Shaner, who helped write the grant proposal. "One of the things that our department lacks despite the recent growth is specifically social network analysts."
The term doesn't refer to Facebook, Twitter and online social networks, but the interactions of people and personal relationships.
"So these are analysts that have the ability to research and analyze social networks, whether that be people or places, using a variety of tools. And that helps us to identify those that are engaged in criminal activity and those who are at risk of being involved in criminal activity, either as an offender or a victim."
One piece that is no longer a part of Tucson's efforts to reduce violent crimes are gun buybacks.
While the city used to have a buyback program, a 2013 state law that required such programs to resell any functional weapons it purchased all but ended the buybacks.
But a recent article in Pew Stateline says such programs may not have been very effective.
Author Matt Vasilogambros looked at multiple studies on the effectiveness of gun buybacks for the article.
"These programs are good for messaging. They're good for bringing about a dialogue about gun violence," he said. "But in terms of raw numbers and reducing those homicides, reducing those suicides, they just don't work."
Vasilogambros quotes a violence prevention activist in Philadelphia who says that such programs routinely offer too little in exchange for weapons.
"He's been shot several times, and has really made it his mission to get these guns off the street," Vasilogambros said. "In some situations, cities will offer $50 for a semi-automatic weapon. He says that number should be closer to $500. If you're really going to incentivize folks to get their guns away from them, you need to offer more money."
The open nature of interstate travel and differing gun laws from state-to-state make it difficult for buybacks to accomplish much.
"Australia had its worst mass shooting in the 1990s, killed dozens of people. It was a horrific event," he said. "And a mandatory buyback was included in a package of programs, which basically said we will give you money for automatic weapons which we are now banning."
Vasilogambros said that, between that nation-wide law and the isolated nature of being an island nation, Australia is seen as one of the few instances where such a buyback program has proven effective.

The Buzz
airs Fridays at 8:30 a.m. and 6 p.m. and Saturdays at 3:30 p.m. on NPR 89.1. You can subscribe to our podcast on
iTunes
and NPR One. See more from
The Buzz
.